Share the post "Family Visits for Summer Vacation With Less Stress"
Summer is a time for fun in the sun, but it can also mean family visits for summer vacation. While seeing loved ones can be exciting, it can also bring stress and anxiety. Here are five practical tips to help you stay calm and enjoy your time with family.
Tip #1: Set Expectations Early
Before your family arrives, set expectations for your time together. Decide how much time you will spend together each day and what activities you will do. Communicate these expectations clearly to your family members.
John 13:35 records Jesus telling his disciples, "By this all people will know that you are my disciples, if you have love for one another." Setting expectations may feel uncomfortable, but it's an act of love that can prevent misunderstandings and hurt feelings later on.
Tip # 2: Schedule Alone Time
It's important to take breaks for yourself during family visits for summer vacation. Schedule alone time each day to recharge and decompress. This can be as simple as taking a walk or reading a book.
In Psalm 23:1-3 the psalmist writes of God, "He makes me lie down in green pastures. He leads me beside still waters. He restores my soul. He leads me in paths of righteousness for his name's sake." Taking time to let yourself be alone with God is an act of self-care that can help you show love and patience to your family members.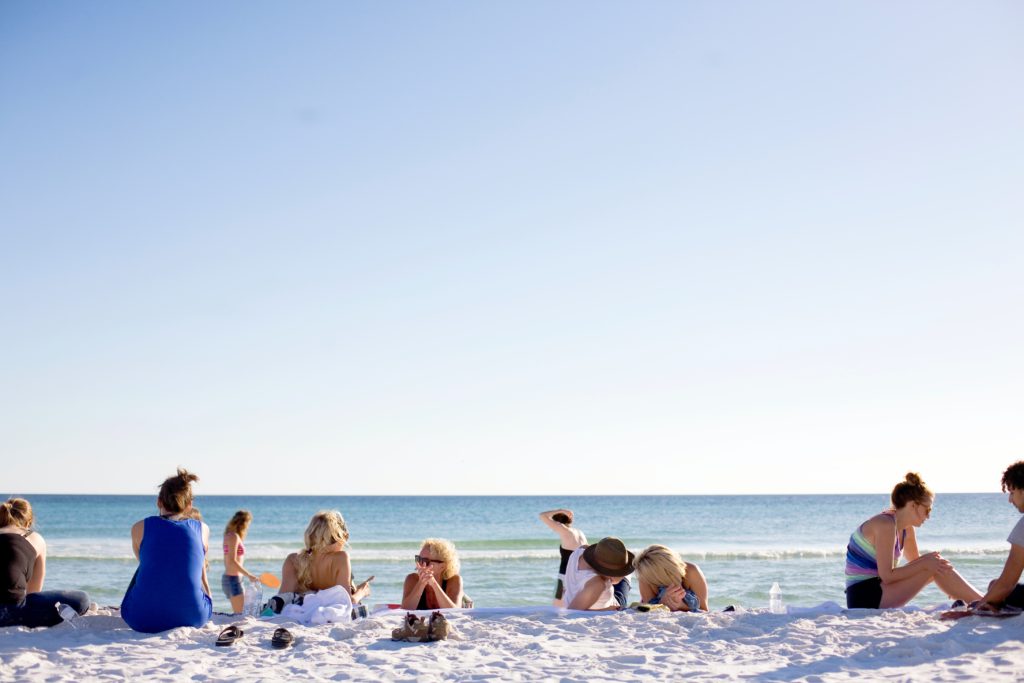 Tip #3: Plan Activities Everyone Will Enjoy
One of the best ways to create positive memories with family is by planning activities everyone will enjoy. Involve your family in the planning process to ensure everyone has a say. Not everyone will love everything, so giving everyone a voice and a vote will help them know that they are heard and valued.
Philippians 2:2-4 in the New Living Translation says, "Then make me truly happy by agreeing wholeheartedly with each other, loving one another, and working together with one mind and purpose. Don't be selfish; don't try to impress others. Be humble, thinking of others as better than yourselves. Don't look out only for your own interests, but take an interest in others, too."
Working together to plan activities brings your family closer and fosters teamwork. It does not prioritize one person's needs before anyone else's and gives everyone a sense of being involved.
Now listen to this short devotional from Abide on Philippians 2.
Tip #4: Practice Gratitude
When family visits for summer vacation, it can be easy to focus on small annoyances rather than the blessings of family. Practice gratitude for the time you have with your loved ones. Take time to appreciate the little moments, like sharing a meal or playing a game. Make it a nightly routine to go around the room and talk about what you enjoyed most about the day and what you're thankful for.
Psalm 50:14 says, "Make thankfulness your sacrifice to God, and keep the vows you made to the Most High." Practicing gratitude can help everyone's attitude improve as they look to the positive instead of the negative each day.
Tip #5: Keep Perspective
Family visits for summer vacation can be overwhelming, but it's important to keep perspective. Remember that this time together is temporary and will soon pass. Focus on cherishing the memories you're creating with your loved ones.
In Psalm 133:1, we are reminded, "How good and pleasant it is when God's people live together in unity!" Keeping perspective on the bigger picture can help you appreciate the unity and love within your family.
Download Abide for Daily Encouragement
Staying calm during family visits for summer vacation can be a challenge, but with these practical tips and biblical encouragement, you can enjoy your time with your loved ones. To stay encouraged daily, download Abide, a Christian meditation app that offers short daily devotionals you can listen to as a family, guided meditations for your alone time, and Bible-based sleep stories (including more than 80 for kids!) that can help everyone rest well with God's Word on their heart.
Remember, family visits for summer vacation can be stressful, but with the right mindset and preparation, they can also be a time of joy and bonding
Share the post "Family Visits for Summer Vacation With Less Stress"