In a world with 24-hour news cycles, constant access to endless information, and inundation of media and content, learning to practice meditation can be hard. But most things that are worth doing aren't easy, and the best place to start is to try. Join us as we walk through Psalm 23 in the New International Version as a mindful meditation.
Preparing Your Mind and Body for Meditating on God's Word
Begin by centering your body. Find a comfortable place to sit down, placing your feet flatly on the ground, and opening your hands in your lap. Allow this simple posturing of your body to reflect the posture of your heart.
Take a deep breath, inhaling slowly through your nose, and then pausing before you exhale through your mouth. Repeat this several times, and when your body is at rest, proceed to the text.
Themes, Prompts, Reflection on Psalm 23
Let's practice the art of meditating on Scripture by working through Psalm 23. For each verse, you will be given a key theme, and then a prompt on how to meditate on that theme. Every few verses, you'll be prompted with another breathing or body scanning meditation to keep your mind centered and your body at rest.
It may be helpful to remember that King David, who authored the 23rd Psalm, was a shepherd before he became king. His intimate awareness of the realities of life in the pasture led him to reflect in this way on the goodness of God.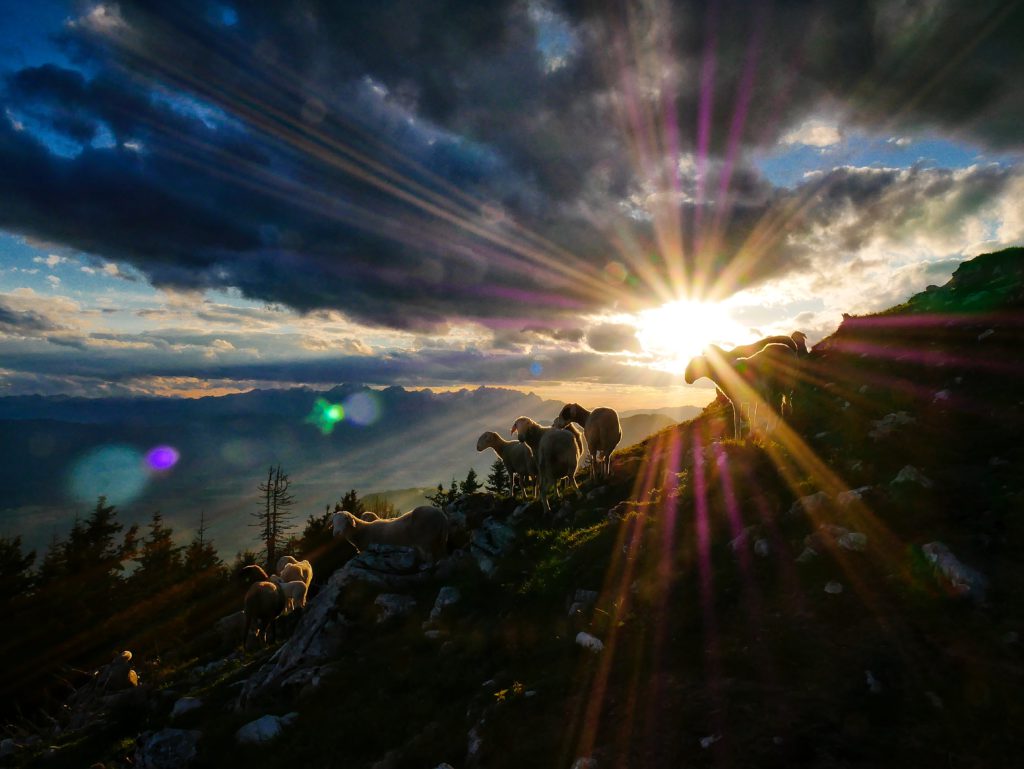 Let's begin.
Verse 1: The Lord is my shepherd, I lack nothing.
Theme: Provision
Those who belong to the Lord have him as their ultimate provider. This verse invites you to believe that because the Lord is your shepherd, you can trust that you will be taken care of, that you will have everything you need.
Take a moment to consider how the Lord has provided for you in the past week. Whether it was a financial need, or wisdom in a challenging situation, leading you to a new friend, or answering a prayer. Give thanks to him for his provision.
Verse 2: He makes me lie down in green pastures, he leads me beside quiet waters, he refreshes my soul.
Theme: Peace and Safety
Sheep are notoriously helpless creatures, with threats abounding. A sheep will only lie down if they are free from fear, and only the presence of their shepherd can guarantee this safety.
In John 10 Jesus says that he is the Good Shepherd. Because of this promise, you can lie down completely free from fear or anxiety of an outside attack. You don't have to worry because your shepherd, the Good Shepherd, is ever-present. He takes care of the pasture of your life, and because of that you can lie down in green pastures and walk beside quiet waters.
Take a slow, deep breath and think about this promise. As you breathe in, picture a flock of sheep resting in a wide, green pasture. And as you breathe out, exhale in gratitude for the peace and safety you find in Christ.
Verse 3: He guides me along the right paths for his name's sake.
Theme: Personal holiness
The Good Shepherd doesn't call you to walk along paths of righteousness so that you'll be successful, or respected, or admired. He calls you to righteousness for his name's sake. Your personal holiness honors God. Take a moment to reflect on God's invitation to you to walk in holiness. Consider how you might choose righteousness today as you walk along right paths for his name's sake.
Verse 4: Even though I walk through the darkest valley, I will fear no evil, for you are with me; your rod and your staff, they comfort me.
Theme: Protection
Verse four invites you to meditate on God's companionship and the protection it offers. David, the psalmist, knew this to be true. He had walked through seasons of being hated, falling into sin, trying to cover up his mistakes, and worse.
As you continue to meditate on Psalm 23, pause to recenter your breathing. Take a slow, deep breath in through your nose. Pause briefly before exhaling through your mouth. Repeat this practice once or twice as you allow your heart rate to settle.
Verse 5: You prepare a table before me in the presence of my enemies. You anoint my head with oil; my cup overflows.
Theme: Abundance
The truest reality of a child of God is abundance. It will always be easier to identify areas of lack, but for those who walk with the Good Shepherd the reality will be sufficiency beyond measure. Meditate on this promise by thinking of one area of your life where your cup overflows. Breathe in deeply in recognition that God has lavished goodness on your life. And as you exhale, give thanks to him in gratitude.
Verse 6 Surely your goodness and love will follow me all the days of my life, and I will dwell in the house of the Lord forever.
Theme: Companionship
The Lord is indeed your great companion! Not only does he lead and guide you as a good shepherd leads and guides his sheep… Not only does he protect and provide… not only does he shower you with an abundance of goodness, grace, and mercy… All this, yes, but even greater is the simple promise of his presence.
Take a final moment now to meditate on this promise: The Lord will never leave you. He will be a faithful friend and companion throughout the whole of your life.
Meditating on God's Word is a deliberate decision to slow down and sit with the words of the Lord. It is to breathe deeply, allowing your heart and mind to settle in the promises of God.
Now listen to this reading of Psalm 23 with Abide narrator Tyler Boss. After you listen, download the Abide app for more Bible content like this, thousands of guided meditations to help you form a daily practice, Bible-based sleep stories to help you get deep rest, and daily morning devotions to help you start your day.