As a restless night gives way to the break of day, your sense of peace and connection with God can often fade. With morning can come anxiety caused by the rush to get everyone out the door with everything they need for the day. With a few simple changes, families can craft peace into their morning routine that will follow them throughout the day. It will take some planning and intention, but with everyone on board, peaceful and meaningful mornings are possible.
Establishing a routine helps everyone know what the expectations are, which helps reduce stress. A routine also helps you to prioritize your daily tasks and be more productive throughout the day. By creating a structure for your mornings, you can ensure that you are making the most out of your time and setting yourself up for success. Remember, "Commit your work to the Lord, and your plans will be established" (Proverbs 16:3 ESV).
There's a saying for church attendees that says "Sunday morning begins on Saturday night." The same could be said for each weekday morning. The more well-rested you are, the easier a weekday routine becomes. Every family is different—different school and work schedules, different personalities, different needs—so it's important to remember that these tips are just suggestions. Your routine should be designed for your specific family's needs—and that could change from season to season.
Let's get started.
Put Together a Plan to Get the Family Moving in the Morning
As the start of a new day approaches, it's easy to feel overwhelmed by the rush to get everyone out the door and off to school on time. By putting together a plan for the family to get moving in the morning, you can reduce stress and increase efficiency. Take the time to sit down with your family and plan out a morning routine that allows for enough time to get dressed, have breakfast, and gather all necessary items for the day ahead. With discipline and dedication, the family can rise and shine each day with ease.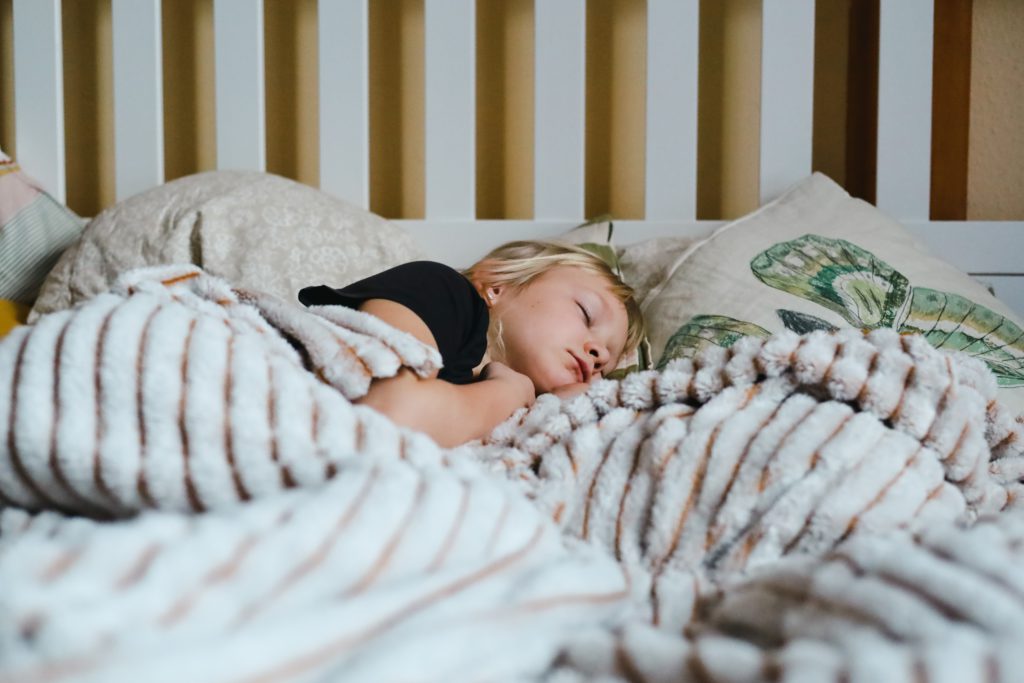 Maybe it's best to set things out the night before. Make lunches and have them ready in the fridge. Make sure all school supplies are already in backpacks and set by the door. If one of your children is more of a sleepy head than the others, make sure they have ample time to wake up and get themselves ready.
Whether you're a morning person or a night person, your day has to get started. Being intentional and thinking through what has to happen each day will help lessen stress and bring peace to your home and help you create a meaningful morning routine.
Start with a Healthy Breakfast
The importance of starting your day with a healthy breakfast cannot be underestimated. Rushing out the door in the morning, skipping breakfast, and grabbing a sugary snack on the way to school and work may seem like a time-saver, but it can actually hinder your productivity and physical health. Take the time to prepare a breakfast that provides essential nutrients to fuel your body and mind.
Start with having healthy options on hand. Bagels, toast, hardboiled eggs, yogurt, fruit, and granola can be easy choices. The more prep you do the night before, the easier the meaningful morning routine will be.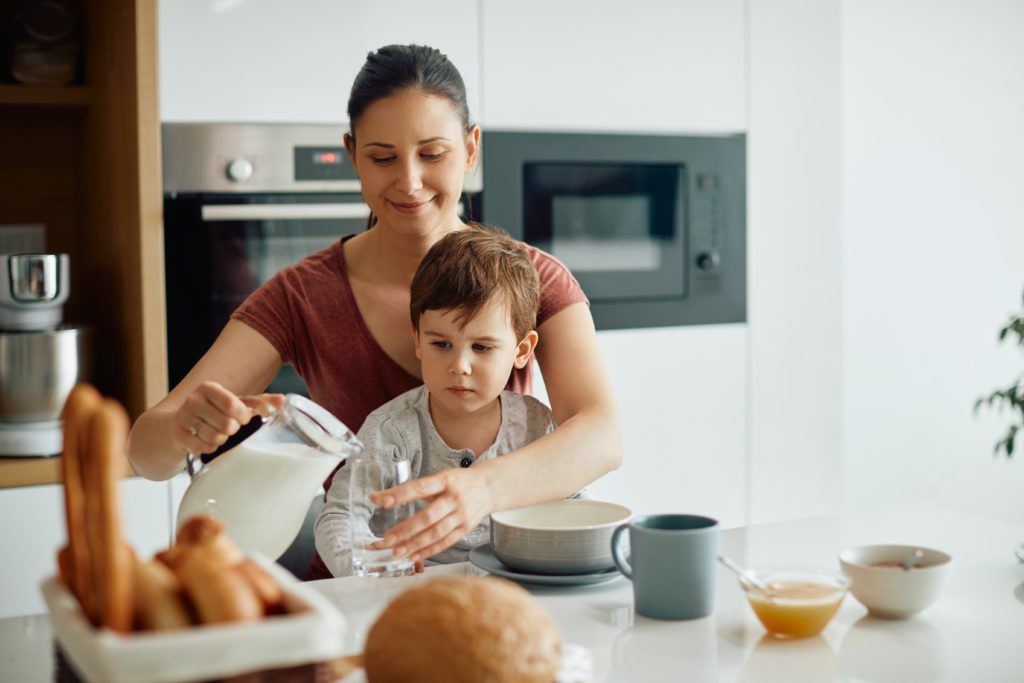 Take Time for Meditation and Gratitude
It's easy to get caught up in the rush of school schedules and the daily demands of raising kids. But it's important to take a step back and cultivate an attitude of meditation and gratitude. As it says in Psalm 118:24, "This is the day that the Lord has made; let us rejoice and be glad in it." By taking just a few minutes each day to meditate on a Scripture verse, to center yourself in God, and to give thanks for your blessings, you can approach your tasks with renewed energy and a positive attitude. Whether it's a brief moment of stillness in the morning, a few deep breaths in the carpool line, or a wake-up routine that includes anticipating the day's joys, meditation and gratitude can help you find calm and appreciation amid life's hustle and bustle.
Give Everyone Their Own Space for Self-Care
Family members are rarely exactly alike. You might have a house full of introverts, or you may have only one introvert and the others are all extroverts. Self-care is going to look different for each one. Give them space to get their morning going the way they need to. Maybe one just wants to listen to music while they get ready and doesn't want to have a conversation. Another may be bubbling with words about their dreams from the night before or what they're looking forward to. Setting expectations and talking through these things as a family will help.
Let every member of your family have a say in how they like their morning to look. It will help them feel heard and valued, which goes a long way to crafting peace. It's important to remember that you cannot pour from an empty cup, so forcing family members into your best practices will empty their cup before they can even get started in the morning. This is especially crucial for students who are constantly rushing from school to extracurricular activities and homework. A meaningful morning routine where, to the best of your ability, everyone can have space to get their day started with their best foot forward will help bring peace to your household in the morning.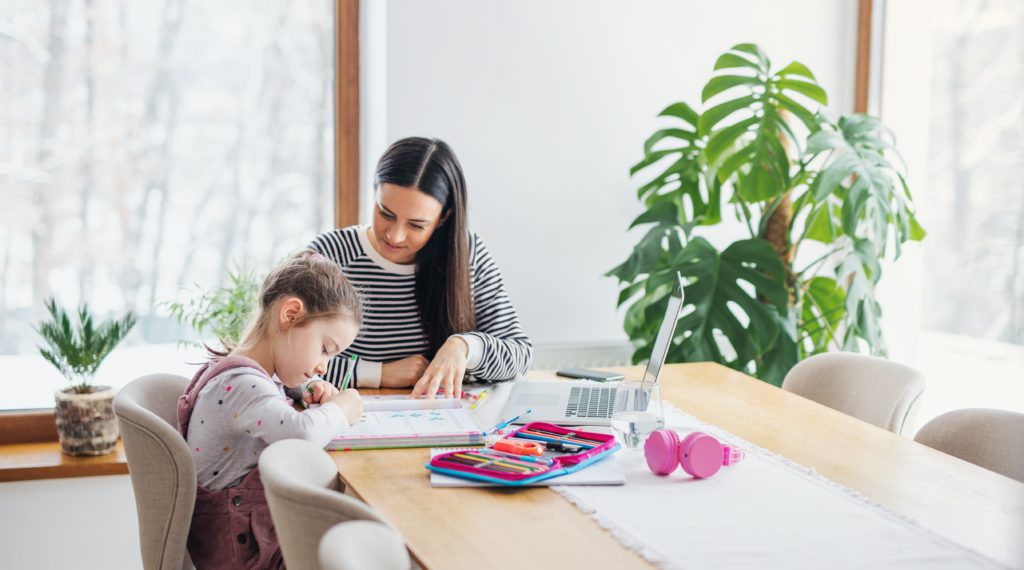 Incorporate Learning and Movement into Your Morning
Incorporating learning and movement into your morning routine is one way to ensure that your kids have a productive day at school. Consider doing stretches and simple exercises together as a family, followed by some reading or review of school materials. This small investment in time can make a big impact on your child's academic growth and development. You might feel exhausted as a parent, so this can seem impossible. That is why taking care of yourself and getting the rest and rejuvenation that you need are essential.
Without a doubt, introducing a meaningful morning routine for your family can be a difficult task. But with the right planning and tools, you can make your mornings run more smoothly and create a positive environment that will last all day long. These school days won't last forever. Creating habits and routines now will set the stage for your kids to continue these healthy routines for a lifetime. Start by building a plan that works for everyone in your family, and works around their busy schedules. Energize your bodies with a nutritious breakfast, listen to an audio Bible meditation together, give each person their own special self-care time, and end with joyful learning activities or movement. In addition to these basics of the daily routine, it's helpful to have some extra support from Scripture. Consider listening to a daily meditation from the Abide App to anchor your day in gratefulness and peace.
No matter where you live or what your family looks like, there is no wrong way to start the day when it's full of love and appreciation for one another. Prioritizing taking care of yourself will ensure that you to have the energy that's needed to help the ones who depend on your guidance every morning. Download the Abide App now and get started on your journey toward a more peaceful and meaningful morning.